India's Covid crisis: UK donate CPX Oxygen Generators to India's Covid fight
Three CPX Oxygen Generators capable of producing 500 litres of oxygen a minute are being sent to India from the UK.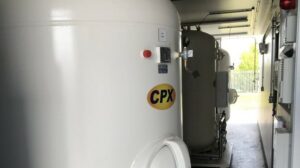 The Generators are among eight oxygen units built last year as back ups for UK hospitals at the height of the pandemic. These have been donated as a part of a wider UK consignment of aid being sent to India, which is currently struggling to cope with a ferocious second surge.
These Generators will support frontline Healthcare workers in India to deliver the care Covid-19 patients require.
The devices are designed to draw oxygen from the air and deliver it to patients. They operate automatically and generate more than 90% concentration.
Oxygen generators are CE marked as a Class IIb Medical Device 93/42/EEC with notified body British Standards Institute and stamped CE 0086.
has commented on this.
We are all very proud our equipment is used to save lives and we will continue to supply our products globally to help conquer Covid-19.
Stay Safe
Precision UK Team