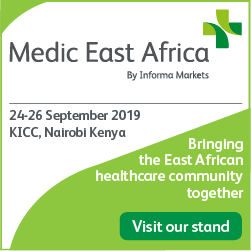 We are pleased to announce we are exhibiting at Medic East Africa, Nairobi, Kenya next month 24.09.19 – 26.09.19.
We will be showcasing our new products including the following:
We are located at stand 3B30 – See our Location here.
Don't forget to book an appointment with our team as we know this Exhibition is very busy. To arrange a sit-down meeting please contact us.
We look forward to meeting you.
Visit our stand at Arab Health to see our 1,000,000th Manufactured outlet, specially designed in 24ct Gold to celebrate this Milestone
The launch of the 1 millionth unit isn't just a presentation of our company's longevity in the Medical Industry but the future that is on the horizon which will deliver millions more
.